Tom Ridge Read My Mail Art!I retrieved my mail from the P.O. Box today and noticed that it had been sliced open on one end and taped back up with a piece of fluorescent green packing tape.
The official-looking emblem on the tape was an eagle surrounded by the words U.S. Department of Homeland Security. There are also large letters reading U.S. Customs on the tape.
They must have been freaked out by the return address from Turkey and the 2 CD-ROMs inside.
I hope the agent enjoyed reading the documentation from Sinasi Gunes' mail art call: Watch.The mail art call on the theme of being watched is quite ironic eh?
The web site for the call including docs is here:
http://www.simulasyon.net/watch/"
Check it out - Good stuff there.
Here is Mr. Security himself with my mail: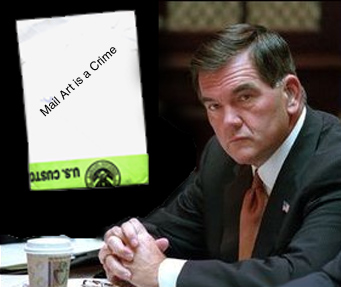 P.S. Sinasi Gunes has a new mail art call which follows:
Theme: Woman and Ecology
Deadline: June 30,2005
Media: Photographs, emails, cartoons, collages, poems, visual poems,paintings, prints, digital images...
Size: Postcard size
Send to: Sinasi GünesAbide-i Hurriyet Caddesi
Arslanoglu Apt.80/18 Sisli / Istanbul TURKEY
No selection, no fee, no return.
Works will be displayed on this website.
I suggest you send him something soon so you can have your privacy invaded too!
kiyotei