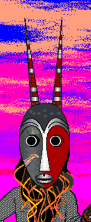 Sue Gollifer (s.c.gollifer@bton.ac.uk), the woman who "made (me) a *star*", posts to my guestbook after our recent email correspondence.


She has some great origami-like paper collages in her exhibit and at the 1994 ArtAIDS collaborative project. One of my first online collaborative offerings is still on the ArtAIDS site.


Sue wrote a great report on the "Uses of Networking" and mentions kiyotei's den in APPENDIX II: Sites that I feel are worth visiting. My fellow art.net artist, Ruth Kedar, is also mentioned in the report.


If you have Adobe Acrobat, you can get the full report which was produced in Brighton, UK.