There is an interesting thread of conversation concerning digital ATCs on the blog
Paint-n-Things
. Do you think digital mailart is as "valuable" as a hand-made item? Weigh in with your 2 cents.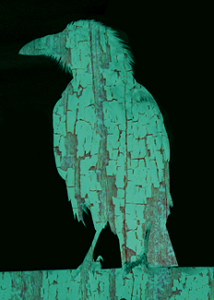 Here is a limited edition ATC ( 7 total) that I made using 2 of my photographs ( a crow in Bryce Canyon Utah and a photo of and old painted wood building). I inverted the crow to a negative image and used a layer filter to get the right paint texture showing through. Then I played with the color and contrast to find just the right shade of turquoise-green. Then I resized it to 2.5 x 3.5 inches and pasted 7 copies onto an 8 x 11 image and printed it out at 300 DPI on Kodak high gloss photo paper.
Do you make digital ATCs??? If the answer is yes and you want to swap, send me an email or send your ATCs to: kiyotei / p.o. box 2786 / carlsbad, ca 92018 / usa
I'll send you an equal number (including the wooden crow image).