Here's a lovely little ATC sent in by Troy Thomas for my
Virri ATC
Swap.
I just updated the
gallery
over the weekend and added a slideshow feature for hands free viewing, so be sure to check out all the new cards that are posted there.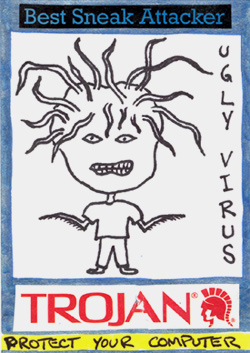 Ahhh . . . if only the
Trojan Man
could protect my little 'puter!
Troy sent two more great cards and a beautiful hand-painted envelope with tribal tattoo motif. Drop by his friendly blog with the theme -
Wanted: Mail Art
and swap some mail art or artist trading cards with this artisan. Details of the card swap can be found by visiting the
The ATC Room
blog.