Young Scientist Sam is back! This techno-savvy mailartist from Spokane, WA has been busy with life and out of the network for a few years, but he's back in touch with a killer blog. Check out his great resource:
Mailart.org
and don't forget to feast your eyes on the
mailart calls
list with over 239 projects (ongoing and with a deadline). So get busy and send some art to a networker somewhere in the world.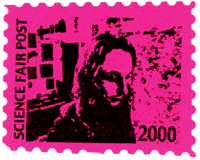 tags:
mail art
,
artistamps
,
artist trading cards
,
atcs