Received this envelope from Pati Bristow a few days ago and it was chock full of stuff including stra Da Da artistamps, a handmade No-War postcard, one fluxus buck and assorted other goodies.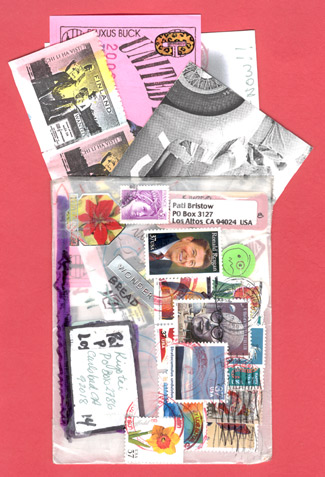 We have been sending this vellum envelope back and forth across California for 11 trips. I'm jamming it full of stuff and dropping it in the mailbox for trip number 12 tomorrow.
You can check out some of
her ATCs
sent back in November 05.
I also received excellent documentation for her last mailart call "No Place to Rest, Chairs that you can't sit on."
You can read more about this call and her latest calls by visiting her
LiveJournal blog
.
*** UPDATE
Number 14 dropped in the mail today (19 August 2005)