Mick Boyle sent this great hand made postcard titled "Smoke Hands." I really like the textured matte finish and the almost translucent gold hands. His blog shows 2 versions of the card and this one is the "dirty" version. I like my mail like I like my martinis: dirty! I've collaborated on a few digital works with Mick in the past and his pixel skills are impressive. Lately, it seems, he has decided to focus more on mail art NOT created by a computer.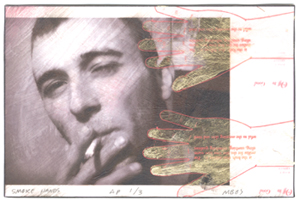 Please check out his most excellent blog-o-omatic at:
http://digitalmailart.blogspot.com/
and send something his way through the mail. You can always count on getting a great reply . . . maybe even a purple radish!