RF Côté of Quebec, Canada sent this nifty Time Traveling device. By adjusting the three switches on the card, the reader is attached to two cosmic strings and can travel at incredible speed because the gravitational force distorts spacetime and produces time travel. The postcard is turned into a time machine by using the gravity produced by the two cosmic strings, to propel itself into the past. This is accomplished by looping around the cosmic strings. For each year traveled backwards in time, a loop of string containing half the mass-energy of an entire galaxy is produced.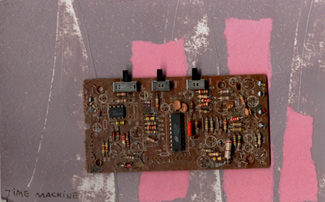 Unfortunately, the circuit was damaged in the mail, and is not functioning. My attempt to travel back to 1976 was unsuccessful. I have ordered another transpositioner capacitance module to repair the card and will attempt the time jump in the near future.
Visit the
excellent blog of RF Côté
and check out all his inventions.