Just sent out docs to the latest 13 participants in my
Virii Swap
. This was the 5th set of documentation sent out since the project begin in the summer of 2003. I received a total of 42 ATCs from these folks. Here is a sample of some of the cards sent: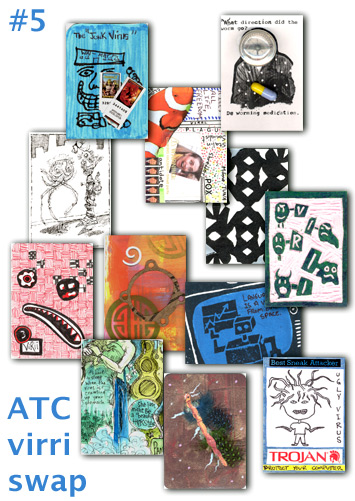 Here is a list of the ARTicipants:
Barbora - Czech Republic / Soluna - Tennesee, USA / Pamdelion - New Hampshire, USA /Rael Mail - The Netherlands / Pati Bristow - California, USA / Brenda Kratzer - Michigan, USA / Justin Kani - Pennsylvania, USA / Endrene Sheperd -Canada / Pablo Wright - Ohio, USA / Generalissiomo J. Dalio - Louisiana, USA / Tim Scannel - Washington, USA / Troy Thomas - Florida, USA / Janice K. Wilson - Missouri, USA
This is an ongoing swap and each person receives back
at least
the same number of cards they sent in. As promised the cards are divided up and sent back to all who participated. This swap was especially hard to let go because so many of the cards were originals including some excellent work by Rael Mail and Endrene Sheperd.
These cards will be added to the
Virri Gallery
on the next update.
I intentionally made this ATC theme a bit vague and unpopular to reduce the number of cards I receive. The current rate of about 12 sets every 6 months is perfect for me. Any more and I would have a hard time keeping up with the scanning , docs and mailing.